ANNOUNCEMENT
I AM VERY PLEASED TO SAY THAT THE PROSECUTOR GENERAL OF THE RUSSIAN FEDERATION HAS NOW OFFICIALLY AUTHORISED THE REOPENING OF THE DYATLOV CASE. ON BEHALF OF YURY KUNTSEVICH AT THE DYATLOV FOUNDATION AND LEONID PROSHKIN WE WOULD LIKE TO THANK EVERYONE WHO HAS HELPED ACHIEVE THIS. I HAVE BEEN SENT TWO OFFICIAL LETTERS RELATING TO THE CASE AND I HAVE BEEN ASKED BY THE FOUNDATION TO MAKE THEM AVAILABLE ONLY TO PEOPLE WHO HAVE CONTRIBUTED TO THE REOPENING OF THE CASE. I HAVE BEEN ASKED THAT THESE LETTERS BE KEPT CONFIDENTIAL BY YOU AND NOT GIVE COPIES TO ANYONE WHEN I SEND THEM. I AM HAVING THEM TRANSLATED AT THE MOMENT. CAN YOU PLEASE SEND ME YOUR INDIVIDUAL E MAIL ADDRESSES TO ME AT yggdrasil12000@yahoo.com
SO I CAN FORWARD THEM TO YOU WHEN THEY ARE TRANSLATED.
TODAY IS THE 60TH ANNIVERSARY OF THEIR DEATHS AND AT THE VERY LEAST THIS IS AN EFFORT TO NOT ONLY REMEMBER THEM BUT ALSO TO TRY AND GET SOME SORT OF JUSTICE AND FIND OUT HOW THEY REALLY DIED.
THANK YOU ALL AGAIN AND I THINK EVERYONE WILL AGREE THIS IS A MOMENTOUS DAY.
KEITH McCLOSKEY
Keith McCloskey - Author
Keith McCloskey Aviation Interview on BBC
Books
Books Contributed to
I have contributed to the following books.
50 Years of Glasgow Airport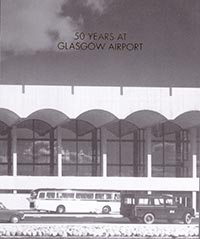 Check these out