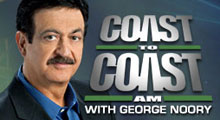 On December 20th 2015, The second part of the interview with George Knapp
is an update regarding my trip to the Dyatlov Pass.
Second Appearance on Coast to Coast AM Website
On November 17th 2013, I appeared on the Coast to Coast AM Radio Station in America.
Coast to Coast AM airs on more than 560 stations in the US as well as Canada, Mexico and Guam and is heard by nearly three million weekly listeners. It is the most listened to overnight radio program in North America.
In just 4 days my 2 websites received over 10,000 new visitors.
I was contacted by a medium in California who very kindly went to the trouble of carrying out a session using the pictures from the book and the map of the route. Her report (11 pages long including the map and pages she used) is here:
National Geographic Channel - Russia's Mystery Files - Dyatlov Pass Incident

Keith was on Russia's Mystery Files - Dyatlov Pass Incident
broadcasting on the National Geographic Channel from November 2014.